How do I withdraw money from my account?
You can withdraw money into your bank account either from your chosen Go & Grow account, or from Wallet.
1. Click on the Withdraw tab on the left menu on your Dashboard
2. You can easily choose whether to withdraw from Go & Grow or Wallet.
3. Here you'll also see the money available to withdraw
4. Type in the amount you'd like to withdraw from Wallet to your saved bank account
5. Click Confirm, and then it's done!*
6. Your money should reach your account within 1-3 business days.
Please note: When withdrawing from Go & Grow, either into Wallet or your bank account, there is a €1 withdrawal fee, regardless of the amount you're withdrawing.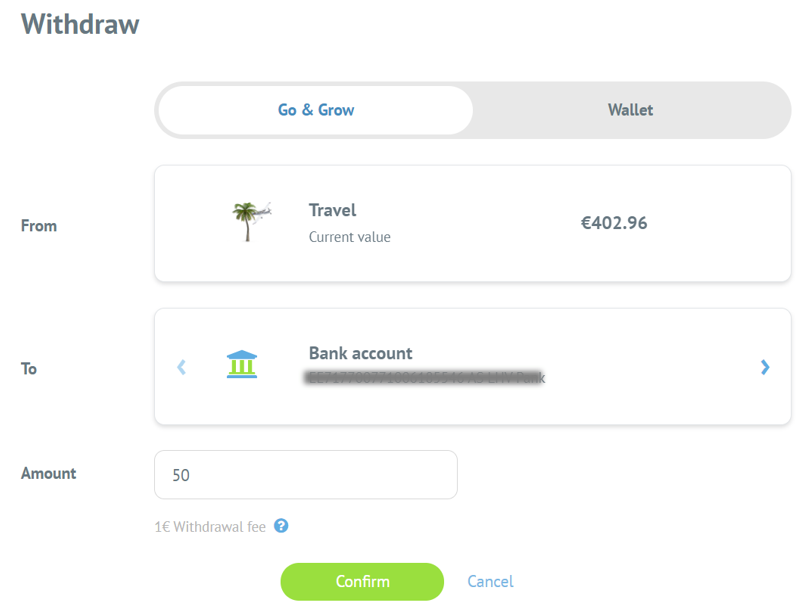 If this is your first withdrawal request, then you need to fully verify your account before you can withdraw money. The identification process is required for all customers to protect your personal information and to make the withdrawal process easier.
Please note: You can only make withdrawals to a bank account that is in your name, and to the same account that you made the payments from. This is to ensure your money is kept safe, even in the very unlikely case that someone accesses your Bondora account details. Don't worry, it's our mission to protect your account!